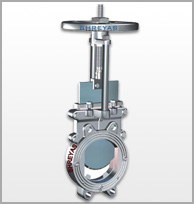 Knife Edge Gate Valve is one of the specific designed valve among other Industrial Valves. This design ensures minimum contact between the parts of the valve thus reducing wear & tear. The high performance Knife Gate Valves features, Non Sliding Motion, Avoid Sliding Contact between Body & Gate and enabling the flushing of media form the valve interior. Bottom edge of the Gate (Knife-Edge) allows the tight shut off even when solid particles settle at the bottom of the body. A wide variety of hardened trim options are available for the Gate, Seat and Wear Ring.

Knife Gate Valves are generally unidirectional valves and act as an excellent hopper isolation valves with their ability to cut through flowing media and closed by dislodging any material in the seating area.

Knife-Edge Gate Valves withstand high temperature & abrasive slurries in Mining, Steel, Power, Chemical, and Paper Industries Ideal for high-density Slurry Lines.